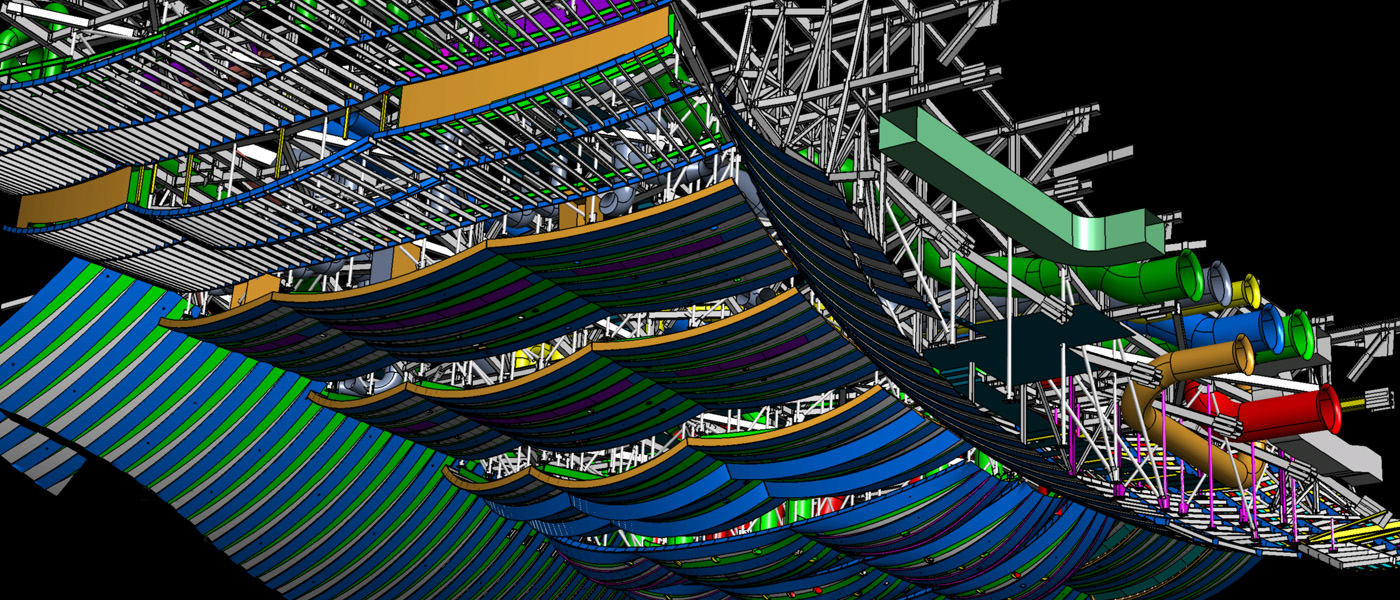 INTERACTIVE | PRINT DESIGN
Walt Disney Concert Hall. An interactive multimedia project and publication that takes people behind the scenes, and inside the design and realization of The Walt Disney Concert Hall, to reveal hidden relationships and interconnections.
Role
Project Lead, Creative Director.
Ideation, Project Proposal, Creative Direction, Team Development, UX/UI Design. Project research
Why
The Walt Disney Concert Hall is a highly complex, world-class acoustic space. The building's form conceals an intricate interrelationship of building design processes and systems. These overlapping competencies deeply influenced the evolution and success of the Concert Hall and yet were not immediately apparent for visitors to readily appreciate.
How
We created an interactive media project with an informative concept-map user interface. Through this, viewers could explore the concert hall and the building components, while also revealing the underlying connections and influences between the building design process, fabrication concerns, acoustic requirements, architectural considerations and construction technologies. Viewers discovered how 3D-based technologies were both developed and perfected over the 15-year creation of this iconic building, and how they came together to create a world class acoustic hall and striking landmark for the city of Los Angeles.
Result
The project is now used on an ongoing basis by concert hall tour guides to help visitors gain insights into these connections, before taking them on the physical tour.
Digital Project Exhibition. How was Gehry's radical work realized in a landscape of typical architectural practice? This video-based exhibition and installation explores the pioneering technologies, processes and methodologies behind Gehry's Architecture, and its paradigm shifting and pivoting impact on the AEC industry.
Role
Project Lead, Exhibit Design, Director (video).
Project ideation and development, Creative Direction, Research and interviews, Director of Video.
Why
The work done by Gehry Technologies (GT) was initially developed in-house for realizing Gehry's architectural vision - an architecture that was challenging to build with the methodologies and practices in the existing AEC (Architecture, Engineering, Construction) landscape. The solutions developed in these efforts allowed Gehry to build radically innovative architecture within project budget constraints, and subsequently led to a massive paradigm shift throughout the AEC industry. This was a hidden story of radical innovation and design thinking that needed to be shared.
How
Commissioned by Gehry Partners to showcase GT, as part of a major Gehry retrospective at MOCA-LA, we created an environment of asynchronous video loops illustrating core elements of the GT design development process. An ambient soundscape for the installation was punctuated by key audio events that synchronized with the videos. This helped focus and direct the viewer's attention and created key, meaningful connections. The success of this installation led to a commission by the Danish Architecture Centre (DAC) to design a large exhibition on the work of GT, entitled Digital Project.
Building on the success of the MOCA exhibit, we created a large scale video-based exhibition in which the audience could wander freely through an open space populated with freestanding video monitors. These featured ongoing looped narratives focused on core topics exploring the evolution and implementation of the parametric design process in Gehry's architecture. Audio was delivered within focused zones around the monitors and viewers were drawn into a complex and layered story-scape, expressed through the words and ideas shared through interviews and conversations with Gehry, and his team of industry leading professionals.
Result
The MOCA installation was highly successful and became an energetic locus in the exhibition, with people gathering around it for long periods of time.
The DAC exhibition was equally well received. The exhibit's core premise allowed viewers to wander through the exhibition, and drift in and out of narrative spaces under sound domes in proximity of the videos, or engage directly and listen more closely with headsets. This encouraged the participatory engagement with the video content and enabled a deeper more holistic understanding among viewers that would not have been possible in a linear, didactic presentation.
A significant touring schedule followed, including the Triennale di Milano, the Vitra Museum, the National Building Museum in USA, and many other venues in Europe, the USA and China.
The Sagrada Familia Church was Antoni Gaudi's unfinished masterpiece. A video commissioned by Danish Architecture Centre, Denmark, helped viewers appreciate the complexity involved in the monumental task of its completion. This work illustrated the pivotal nature of 3D parametric design in interpreting Gaudi's vision from the surviving references, and making its completion conceivable.
Role
Creative Director.
Ideation, Creative Direction, Project research.
Why
Parametric modeling and 3D building technologies are now commonly employed to realize architectural projects. They can also be used to build previously unrealizable projects. A compelling example of this is Gaudi's Church of the Sagrada Familia. After Gaudi's death, the masterpiece was very incomplete and a daunting task to complete, furthermore during the Spanish Civil war, most of Gaudi's drawings and models for the project were destroyed, making further reconstruction work and project completion nearly impossible.
How
Marc Burry, executive architect for the Sagrada project had been using parametric modelling and 3D building technologies in innovative ways to reconstruct and realize Gaudi's original intent. We developed a video that interwove an interview with Marc, with examples of how these technologies were being applied in the restoration project—in particular, for analyzing the few surviving fragments of the destroyed models to reveal the essential geometries intrinsic in Gaudi's masterwork.
Result
Viewers were able to follow the story of the Church's evolution, and learned some fundamentals of 3D parametric design, and how they were being applied - gaining clear insights into the crucial role of technological innovation and its radical application in the realization of Gaudi's original vision.